What do you get when you mix a violin, bass, and accordion? The popular, romantic sound of Mediterranean music. Perfect for spring and summer events, our Mediterranean trio conjures up Italian, French, and Spanish vibes through the distinct sound of these instruments together.
What does Mediterranean music sound like?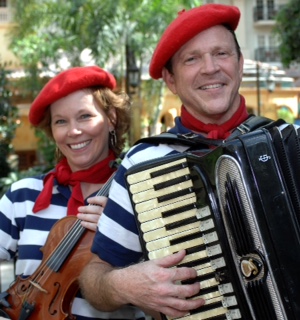 The signature sound of traditional Italian and French music is often thought to be evoked by the accordion. Inspired by the traditional French musette, this Mediterranean music can take on multiple forms and resemble cabaret, bossa nova, and Italian folk music.
Classic tunes on any set list could include anything from La Spagnola to One Note Samba to La Vie en Rose — even American songs covered with a foreign flair and rhythm.
For a taste of this genre in action, check out the demo video below.
Want to explore more world music sounds for your next event?
We'd love to help. Contact us to learn more or book music for your upcoming event!