If you're like some engaged couples, you know the exact type of music — maybe even the exact band — that you'd like to play at your wedding. For others, a little exploration of the many options is in order. Either way, to get the sound you love at the price you want, knowing when to book wedding music and how to work with the musicians is key. Here, we walk you through a few common questions and our best recommendations for securing the wedding musicians you want for your day.
What types of wedding music do I need?
If you're unsure of your options for music throughout the wedding day, check out our Guide to Selecting Wedding Music to get a better idea of your unique needs and taste. If music isn't high up on your list of important aspects of your big day, then you may find yourself sticking to the basics, going with a smaller duet or DJ. However, if live music is a focal point of your celebration, consider the many opportunities for it to shine, from the pre-ceremony to the last dance at your reception.
How far in advance should you book the band or group?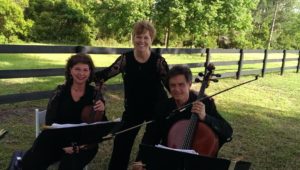 Depending on the size and popularity of the music group, as well as the timing of your wedding, we recommend booking the musical entertainment at least 6 to 8 months in advance. We've had couples book their dates with us nearly 2 years ahead, all the way up to 2 weeks before their celebration — but the shorter the lead-time, often times the more costly and limited it becomes. To allow for plenty of preparation, book your musicians sooner than later!
What should you provide your musicians with before the wedding?
Once you've selected and reserved your band, quartet, or other wedding music group, the musicians or agent should provide plenty of guidance on their timeline, needs, and typical procedure. To be most equipped to work with your wedding musicians, think through the following and talk it all through with them:
What parts of the full wedding day they're needed, with time and location information

What songs you want to hear, and when? The musicians may need to learn a tune or two, so the sooner they have your must-play list, the better!

Are any songs or genres forbidden?

When can the musicians do a soundcheck at the venue?
Have any other wedding music questions?
We're here to help. Send us a note to learn more or book music for your big day!